Merlin Properties will transfer the Factory Bonaire (in Aldaia, Valencia) and Vilamarina (in Viladecans, Barcelona) centres to the Eastern European investor in the next few days. The amount of the transaction will be around 22 million euros.
Indotek is a firm controlled by Hungarian businessman Dániel Jellinek, one of Hungary's biggest fortunes. It has more than two decades of experience and focuses on real estate. Part of its business is based on the management of so-called non-performing loans and it is also the owner of 20 shopping centres, 30 office buildings and 100 logistics warehouses.
MERLIN DIVESTS NON STRATEGIC ASSETS
These are two non-strategic properties for the socimi, which have been available for sale for years. These two centres became part of the real estate company's portfolio in 2016, when it integrated the tertiary assets (offices and shopping centres) of Metrovacesa in 2016, in exchange for giving Santander and BBVA a stake in the capital.
The portfolio of this real estate company is also made up of offices and logistics and industrial warehouses with a combined value of €11,317 million, according to the valuation carried out at the end of 2022. In the case of shopping centres, they are worth a total of 2,135 million euros, in investments mainly focused on large leading properties in their area of influence. Therefore, neither Factory Bonaire nor Vilamarina fit into its portfolio.
Merlin's main reason for divesting Factory Bonaire, precisely, is the small size of that asset, as well as being the only outlet (or discount shop) in its portfolio, a segment that the real estate company is not interested in focusing on. This Valencian centre - opened in 2002 and built by the now defunct Riofisa - houses outlets from Desigual, Décimas, Adidas, Mango, Guess, Nike, Puma, Skechers, as well as restaurants such as Burger King. Factory Bonaire is located next to the large shopping centre of the same name, Bonaire, which is owned by the French giant Unibail-Rodamco-Westfield.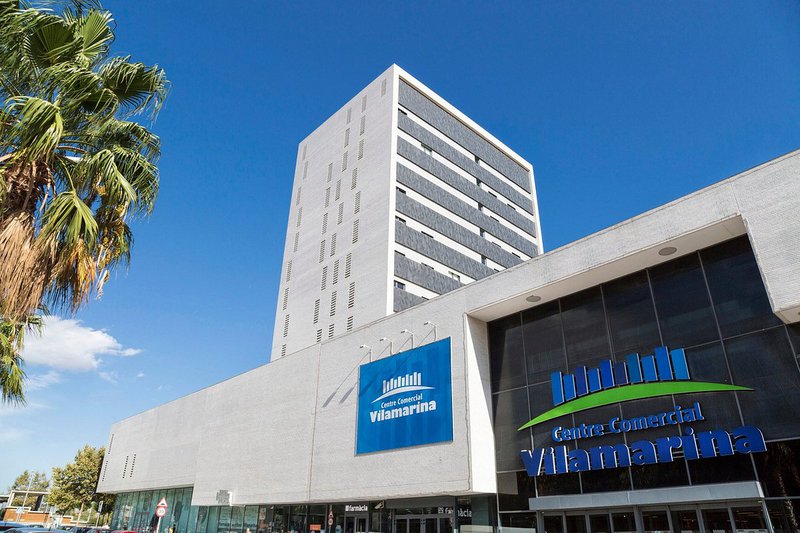 Vilamarina shopping centre (Viladecans, Barcelona)
Vilamarina is somewhat different. It is a medium-sized centre (32,000 sqm) that needs a strong capex investment to reposition it. Merlin would not be interested in allocating resources to this type of property - as investors have punished retail landlords in the stock market due to the uncertainty of online commerce. Therefore, it would be easier for a fund such as Indotek (unlisted) to undertake a refurbishment.
Vilamarina, built in 2009 by Metrovacesa, has 90 shops, with brands such as H&M, Jack & Jones, Springfield, Women'secret, Cortefiel, La Casa del Libro and Décimas, as well as restaurants such as Goiko, KFC, 100 Montaditos and Enrique Tomás.
Merlin has disposed of assets that it does not consider strategic on other occasions, such as its hotel portfolio. And a year ago it sold all of BBVA's bank branches for almost 2,000 million, which served to reduce debt. It is currently investing to enter the (more profitable) data centre segment with projects in Madrid, Barcelona and the Basque Country.