The Seville shopping centre Lagoh, flagship of Lar España, with a surface area of 100,000 square metres and inaugurated in September 2019, has been chosen 'Best new European shopping centre development of over 70,000 square metres', together with Nivy, in Bratislava, in the Design and Development Awards 2023, organised by the European Council of Shopping Places in collaboration with the Italian and German Shopping Centre Associations.
The Lagoh shopping centre is owned by Lar España and managed by Grupo Lar. In July 2022, it was already named Best Large Spanish Shopping Centre by the Spanish Association of Shopping Centres. Last December, the centre surpassed its attendance record, hosting more than one million visitors during that month.
With 100,000 square metres of floor space, Lagoh is the largest shopping and family entertainment complex in Andalusia. The centre attracted a total investment of 260 million euros and has more than 140 leased and operational retail spaces. They make up an exclusive offer of shops and leading brands, many of them previously unseen in Seville.
It adds an experiential and open gastronomic area, with nearly a hundred terraces around the central lake that gives its name to the complex, as well as the most avant-garde and innovative cultural, leisure and free time activities in the community. Events and night-time illuminations around the lake are designed to make each visit a unique event and experience.
The new European award was presented in Milan during a meeting of European shopping centre and retail park developers. The award was collected by José Manuel Llovet, CEO of Commercial Real Estate for Iberia of Grupo Lar; Jon Armentia, Corporate Director and CFO of Lar España, and Sergio García, Retail Director for Iberia of Grupo Lar.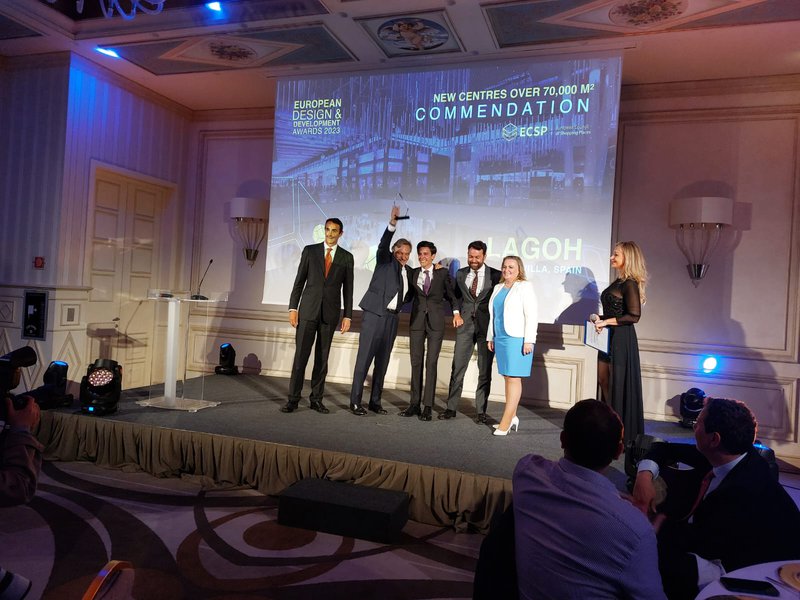 Lar España receives the 'Best new European shopping centre development of over 70,000 square metres' award
José Manuel Llovet valued the award as recognition of a new model of shopping centres that is much more advanced, technological, resilient and dynamic for the city in which it is integrated. "Lagoh recognises the business model of Lar España, the only socimi specialising in retail listed on the Spanish Continuous Market, which in its nine years of existence has built up an excellent portfolio of 14 shopping centres and retail parks. All of them selected one by one, leaders in dominance and sustainability and benchmarks for the quality of their commercial mix". The Jury also highlighted Grupo Lar's great management capacity, based on criteria of innovation, experience and the best service and relationship with end customers and tenants.
The Seville City Council and the Andalusian Regional Government have supported the shopping and family entertainment centre project from the outset as one of the development hubs for the south of the city. Lagoh has also acted as a pole of attraction for several residential and service projects in the immediate vicinity. The management of the complex is the responsibility of Grupo Lar, which with its more than 54 years of experience in the market once again demonstrates the quality of its teams, carrying out this task exclusively in the commercial complexes of Lar España.