Stay by Kronos, the joint venture of US property manager Nuveen Real Estate and Kronos Real Estate Group, continues to bet in the Spanish Build to Rent (BTR) market. Currently with a portfolio of 3,000 homes in different phases, the vehicle plans to invest more than 750 million euros to reach a portfolio of 5,000 homes by 2025.
This Wednesday, the BTR platform welcomed José María Bellido, Mayor of Córdoba, to present its latest new rental housing development - a 200-home development, which represented an investment of more than 50 million euros.
STAY Córdoba, a project located in one of the most promising areas of the city
Carlos Rodríguez-Bailón, CEO of Stay by Kronos, began by recalling that two years ago there was just an idea, and that today, after much effort and care, the project has become a reality. A month after opening, Stay Córdoba already has more than 90 reservations, which is evidence of the demand for this type of unit and the experience that the space provides.
In terms of prices, the one-bedroom properties start at 620 euros per month, while the three-bedroom flats are priced at over 1,100 euros per month. On the other hand, the company's general manager assures that the services offered in its developments are one of the main attractions. Their projects have a gym, swimming pool, coworking area, meeting rooms, paddle tennis courts, smart lockers, a lobby with a social area and 24-hour video surveillance, among others.
For his part, the Mayor of Cordoba, José María Bellido, commented "it brings us great joy to have private investment in Cordoba and that investors want to contribute to the quality of life of our citizens, in the case of Stay by Kronos through the provision of such an important service as housing".
José María Bellido also reinforced the public-private partnership model, which has been established quickly and with legal certainty. "We have responded to the city's growth environment, in accordance with a plan that has been in place for many years and has a built-in vision of sustainability".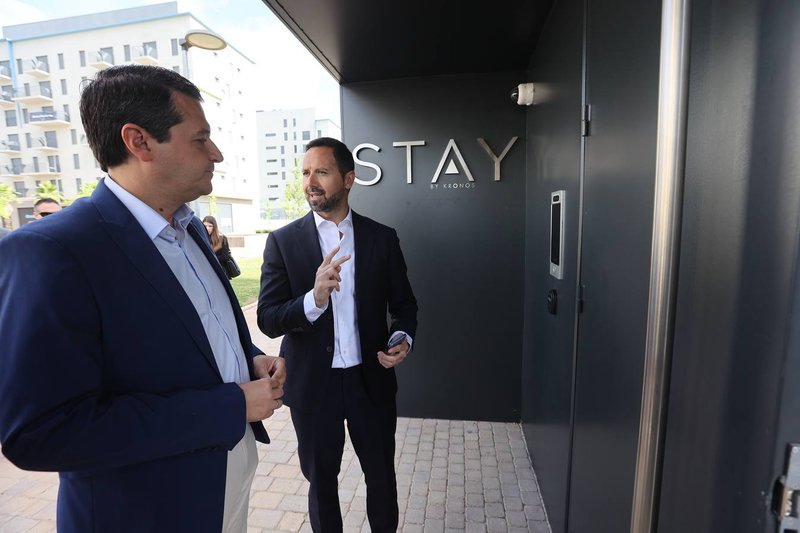 José María Bellido, Mayor of Córdoba, visiting Stay Córdoba
Carlos Rodríguez-Bailón, explains in an interview with Iberian Property that Cordoba is a city with more than 300,000 inhabitants in which the professionalised new-build investor did not exist. As a result, and in line with their strategy, they have decided to create new-build housing in this area where they had identified a shortage of supply.
Specifically, this neighbourhood is at walking-distance (10/15 minutes) from the centre, the mosque and the AVE station, has many services, and a road that has been opened 1 year ago to all the ring roads.
Having a location that is very central to many points and with all the existing services, it consolidates a demand of young people who value very positively to have the alternative to the purchase with a house of quality of life and a very reasonable rental price.
Demand: Cordobeses, Spaniards or foreigners... who are the first tenants?
"The demand is very local, mainly people from Cordoba who, after looking at the show flat, and seeing the commercial material, have seen that there is a possibility to live a new rental experience, with new bathrooms, new equipped kitchen, and that it generates a community with a sustainability certification that is at the top of the market. Basically, our demand feels very comfortable with all the value proposition in "pack" that we offer, and proof of this is the good number of bookings that we have a month before opening doors".
ESG: What challenges did this development pose?
In terms of certifications, going to the highest certification also raises the standards. In addition to having energy certification A, which requires for example the implementation of solar panels on roofs, obtaining a 'BREEAM' 3-star rating also meant an effort to ensure that water resources are managed in a very sustainable way, which is verified from the smallest details such as choosing native plants. Another point that makes sense to mention is related to the glazing and all the carpentry, which require additional investment because they have to protect the entry of light to maintain the temperature of the interior spaces, so that the climate during all seasons is sustainable.
"Our ambition has been to go to the maximum standard, which of course requires a lot of investment of money in the building, but which in the end we can see has a direct return for the tenant. We owe much of our success in this regard to the expertise of our partner Nuveen, who is a leader in this field worldwide".
Alberto García-Gasco, Associate Investment Manager of Nuveen Real Estate, also in an interview with this media, commented that "at Nuveen we give quite aggressive importance to the whole ESG issue, we have a specialised team that focuses on analysing all the projects in which we invest and on the capacity to be able to monitor it".
The US company defines as a minimum for all its projects to obtain a 'BREEAM Very Good' certification and is increasingly focusing on the wellbeing of the tenant, where they seek to obtain the 'Fit-Well' certification, a process that starts of course in studying the location of the building - if it is located near parks, in an environment that is sport-friendly and preserve health - and that influences all the following phases of the project.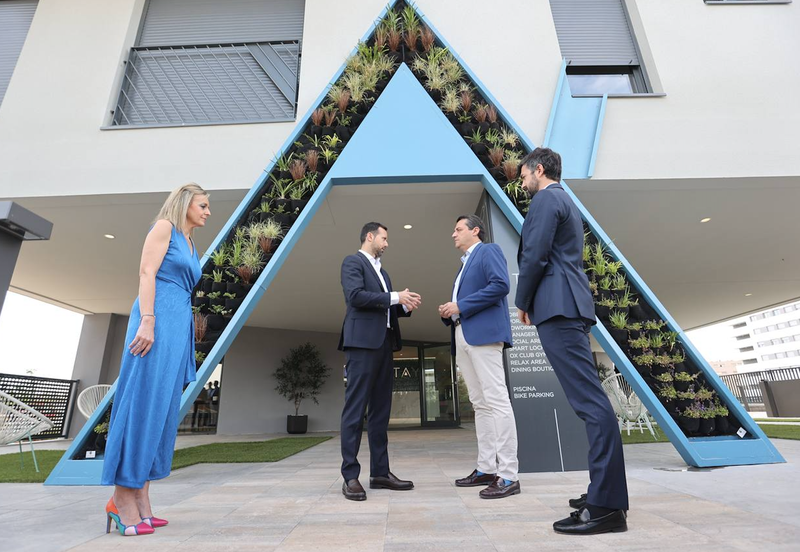 Rising interest rates, rising construction costs and difficulty in accessing financing... did this affect the expected profitability of the project?
Carlos Rodríguez-Bailón, CEO of Stay by Kronos, explains that his approach to a real estate development is always very prudent and conservative so the numbers reflect that positioning. "This was an investment that we were clear about what we were going to do before we started, we had considered the costs it was going to involve, the rent, and luckily those costs with the rents that we are now seeing in the pre-commercialisation phase are meeting very well, so we are satisfied with the landing we are having ". Rodríguez-Bailón added that the aim is that, in a month's time, when people can see the finished building, they will be able to fill it within 2/3 months.
What is the impact of the recent passing of the Housing Law ('Ley de Vivienda')?
"We already knew this was going to happen. When we started we knew that there could be some kind of regulation in the market, but we are here to propose a solution to the problem of supply, putting up new rental housing at affordable prices".
The CEO of Stay by Kronos, shares that any legislative proposal that comes to bring some value to the tenant or legal uncertainty to investors deserves to be analysed with caution, but in general "we feel comfortable because we go to a reasonable segment of income, we have a vocation of permanence and long term, and our assumptions within the business plan are very reasonable always for the benefit of our tenants".