Even though we are living in a scenario of uncertainty, many experts agree that housing prices may continue to rise during 2023. However, the rise will be much more moderate, between 1% and 1.7%.
One of the reasons for this constant rise in prices is due to the mismatch between supply and demand. A problem that threatens to become ever greater in a context of rising interest rates in which more and more families are opting to rent as they are unable to buy.
Faced with this lack of supply, in recent years many large investment funds have come to Spain with the intention of investing in the development of large new build projects for rental. Specifically, the pipeline of new developments in Spain has grown by 15% in the last year. Spain would need more than 1.8 million dwellings for rent to be on a par with other comparable countries in the European Union, where the percentage of homes for rent is significantly higher and where the market is advancing at a faster pace. Andalusia, Valencia and Galicia are the regions with the greatest need for rental housing in terms of units.
According to Atlas Real Estate analytics, more than 97.000 rental homes are planned to be operated and built under the BTR formula in the next 5 years, of which 60% are driven by public plans. Nonetheless, the private investor is the main protagonist in the sector, as it is responsible for providing most of the capital to build these homes, while the different administrations generally provide the land.
WHO ARE THE MOST ACTIVE PLAYERS IN THE BTR MARKET?
In 2022 alone, approximately 1.48 billion euros were invested in BTRs in Spain, which translates in the transactions of almost 6.000 units, according to the Iberian Property database. If considered also the PRS operations, the total volume invested ascends to around 2 billion euros, approx. 17% more than the previous year, led by long term institutional investors such as Patrizia, Greystar and Nuveen.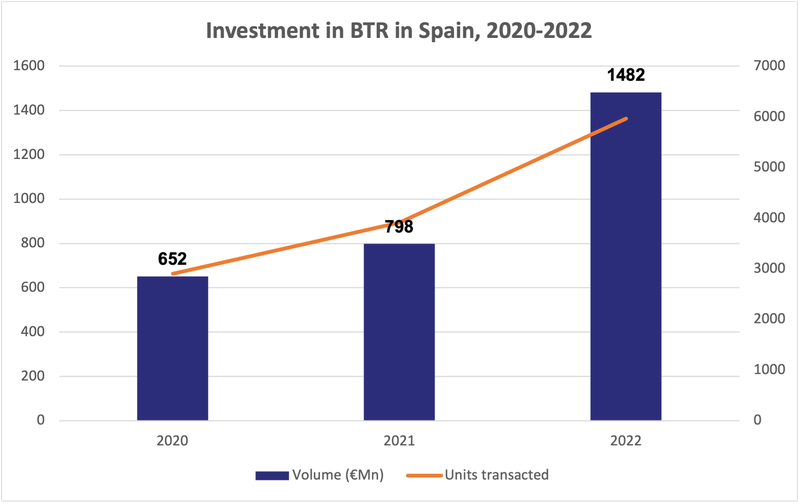 With the rebalancing of interest rates, the market might slow down a bit during this year, however many real estate funds are already looking at doing deals with full equity. In this sense, a growing number of "alliances" are being formed to enter this segment, some of which we highlight below.
1) Dea Capital and the American fund Harrison Street have decided to commit to 'build to rent' through their joint venture, Magno Living, with which they plan to invest 1.2 billion over five years to develop a portfolio of 5,000 homes. The company has also entered into a joint venture with a fund managed by CBRE Investment Management (CBRE IM), with the aim of developing a portfolio of approximately 1,200 affordable and sustainable homes in Spain.
2) Grupo Lar and the French fund Primonial REIM have joined forces to create a stock of 5,000 rental properties in different cities in Spain by 2027, which will be valued at close to 1 billion euros.
Grupo Lar currently has almost 2,000 units committed, spread across 15 developments in most of Spain's main cities. They are already operating, through their management company Vivia, 146 homes for rent in two developments -Parla and Valladolid- and during 2023 they expect to reach 530 units for rent, incorporating projects already under development.
In construction, they currently have a total of 1239 units with three projects in Madrid and one each in Barcelona, Valencia, Alicante, Murcia and Granada.
3) Nuveen Real Estate has teamed up with the developer Kronos to develop €1bn worth of build-to-rent (BTR) homes in Spain, a 5,000-unit portfolio. In July of last year, the joint-venture has purchased two plots of land in Madrid and Barcelona to develop over 600 new build to rent homes, increasing its portfolio up to 11 developments in Valencia, Tarragona, Pamplona, Córdoba, Barcelona and the Region of Madrid, with the latter region accounting for 55% of the total portfolio.
4) Ádsolum is also looking for a travel partner to give gas to the residential rental development. Altamira doValue's developer is considering an alliance with a fund or investor with the aim of developing between 1,500 and 2,500 units.
The investment target of the joint venture planned by the management company would be 600 to 1,000 million euros, of which half would be equity and the rest through external financing.
5) Aviva investors and the Catalan developer Layetana living to develop, by 2027, a portfolio of homes for rent in Spain worth more than 500 million.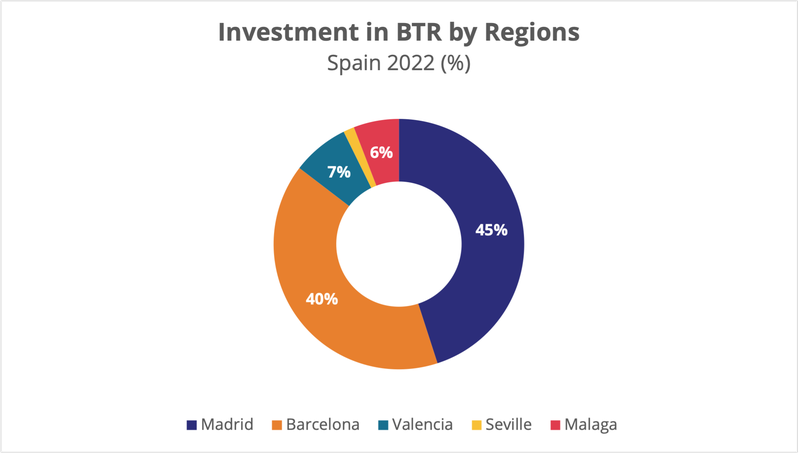 CHALLENGES AND OPPORTUNITIES FOR THE BTR MARKET
The negotiations and the noise generated around the new Housing Law, which is currently going through parliament, have been adding uncertainty to the rental sector for several years, as the regulation threatens to include a price cap in areas that are classified as stressed.
However, the sector criticises that the government is already intervening in the market since March 2022, when it approved a 2% cap on rents in relation to the CPI, which was included within the framework of the National Plan to respond to the economic and social consequences of the Russia-Ukraine conflict.
But the interest of international funds in rental housing is not the only way in which the supply of flats for rent in Spain is being boosted through build to rent, as public administrations are also opting for this route to increase affordable housing stock in collaboration with the private sector.
And developers are responding positively to the call of the Administration. This is the case of Madrid City Council, which has awarded all the plots in the first surface right tender for the construction of more than 2,000 affordable rental homes in 11 districts of the city. The tender covers 25 plots in Arganzuela, Carabanchel, Ciudad Lineal, Fuencarral-El Pardo, Hortaleza, Latina, Moncloa-Aravaca, Retiro, San Blas-Canillejas, Usera and Villaverde and has a total buildable area of 150,000 sqm.
The five lots into which the tender was divided have been awarded to the developer Culmia (lots 1 and 5); to Avintia Desarrollos Inmobiliarios and Pecsa Real Estate (lots 2 and 4); and to Spaces by Vía Ágora (lot 3).
In these homes, the rent will be at least 25% below the market price for each of the areas and the rent will not exceed 25% of the family's monthly income.
This is a pioneering initiative in the city, based on a 45-year surface right. At the end of this period, the houses will be transferred to the municipal public housing stock. The Consistory has announced that it will use this model again, as the Urban Development Department has announced that it is already working on a second tender for a right of superficies for affordable rentals that will allow the construction of approximately another 350 homes on eight plots of land.