A major new acquisition has positioned Kronos Real Estate as one of Portugal's leading resort managers and property developers. With this transaction, the Kronos Homes brand will manage and operate a portfolio of 14 projects: 7 new developments in addition to the existing portfolio of tourist and residential/resort developments which already includes four residential real estate projects. The new addition to the portfolio comprises around 750 turnkey homes, 425 units to be developed and over 102,000 square metres of land. The deal will represent a potential of more than €1 billion in real estate sales, mainly across the Algarve.
Earlier this year, a consortium led by investment funds advised by Davidson Kempner Capital Management LP, and comprising operating partners Kronos RE (for real estate development) and Highgate (for hospitality), completed the acquisition of leading Portuguese investment manager ECS Capital. The portfolio includes hotels, golf courses, development land and a wide range of residential properties.
Kronos Homes is already known for its successful ownership and operation of the impressive Palmares Ocean Living & Golf and Amendoeira Golf Resort in the Algarve, as well as the development of Distrikt, The One and Zen, all residential projects in Lisbon.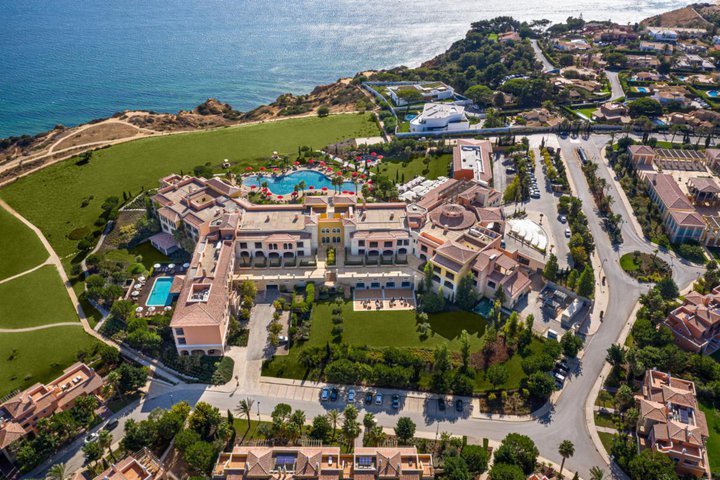 CASCADE WELLNESS RESORT, ALGARVE, PORTUGAL
Kronos Homes will now also be responsible for the repositioning and commercial real estate operations of a number of resorts across the Algarve, including the management and real estate development of the renowned Vale do Lobo Resort. A favourite with golfers and holidaymakers from around the world, Vale do Lobo Golf & Beach Resort is already home to 1,500 properties, serving an international ownership community spanning 35 different nationalities, along with a range of amenities and services. Future development plans include a 135-room five-star hotel and luxury flats and villas.
Also now included in the Kronos Homes portfolio are the popular Salema Beach Village, Cascade Wellness Resort, Monte Santo Resort, Conrad Algarve, Salgados Palm Village and Salgados Dunas Suites.
With this transaction, Kronos Homes
adds to its portfolio around 750
turnkey homes, 425 units
to be developed and more than 102,000
square metres of land

Saïd Hejal, Founding Partner and CEO, Kronos Real Estate Group, said: "This investment reflects the objectives we have set for our brand in Portugal. It was an excellent opportunity to expand our presence in a market that we consider very relevant to Kronos' business". The company's CEO added: "We know that with our experience in the market, guided by our vision and commitment to exceptional architecture, together with our partners and local teams in each of the projects, we will be able to successfully develop, invest and grow this portfolio".
Kronos Homes already enjoys an excellent reputation for the quality of its architecture and its lifestyle-focused approach to resort development. In the past two years, the company has accumulated awards for its buildings and a Michelin star for its Al Sud restaurant at Palmares Ocean Living & Golf. It has also attracted buyers from around the world to Portugal, thanks to its high quality homes and superb facilities.
The expansion marks an important step forward as part of Kronos Homes' long-term strategy. The developer began operating in the Spanish residential sector in 2015. Since then, it has increased its business portfolio and the investment allocated to its development. It arrived in Portugal at the end of 2017 and already has more than 40 projects underway in both markets.