The Build to Rent platform, STAY by Kronos, the result of the collaboration between Nuveen Real Estate and Kronos Real Estate Group, has inaugurated today STAY Torrejón, their first Stay in Madrid. This residential project, which is already 70% leased, consists of 121 new homes with the capacity to accommodate more than 200 tenants. Located next to Parque Europa in Torrejón de Ardoz, it is approximately 25 minutes from the centre of Madrid and has involved an investment of over 25 million euros.
The presentation event was attended by Alejandro Navarro Prieto, Mayor of Torrejón de Ardoz; Carlos Rodriguez-Bailón, CEO of Stay by Kronos; and Alberto García-Gasco, Investment Manager of Nuveen Real Estate. During the event, the attendees were taken on a tour of the different areas of the residential complex.
The Mayor of Torrejón de Ardoz, Alejandro Navarro Prieto, indicated that "it is always a pleasure to see new investments coming to our city and that, as in this case, they also mean the arrival of new residents. Stay by Kronos has made the right decision in choosing Torrejón to host this large residential development of 121 homes, as we are a young, dynamic and hard-working city that is consolidating the biggest process of transformation and improvement in its history. From the Town Hall, we are promoting Torrejón de Ardoz as one of the most fashionable cities, with the highest quality of life projection in the whole of Spain".
Carlos Rodríguez-Bailón, CEO of STAY by Kronos, said: "We are very excited about the opening of our first project in Madrid where our tenants will be able to enjoy quality homes with an ecosystem of premium services based on technology, wellbeing and sustainability. We are convinced that Torrejón de Ardoz will embrace STAY's new lifestyle-focused concept.
Alberto García-Gasco, Investment Manager of Nuveen Real Estate, added: "At Nuveen we believe in the residential market and we are committed to responding to a real demand, especially in certain locations that are experiencing significant growth and where it is necessary to strengthen the stock of affordable, quality housing. For this reason, we offer an innovative product, with the aim of becoming a benchmark in Spain that can be replicated in other large cities in Europe".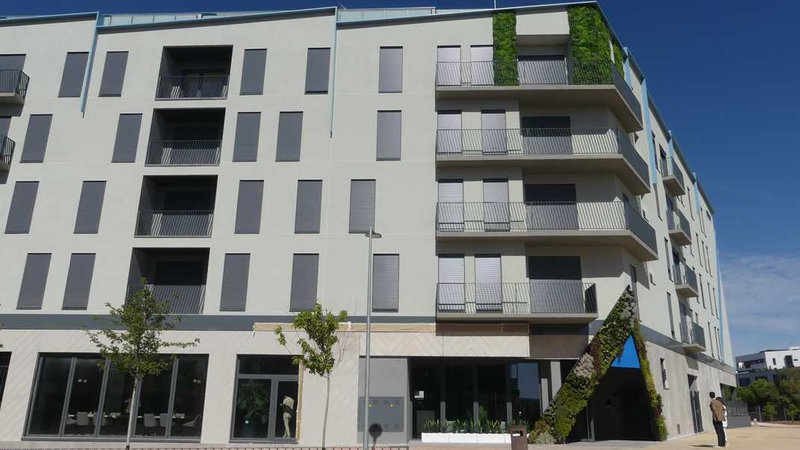 STAY Torrejón, a project that reflects the "green" residential that Real Estate demands
The design of the project was the responsibility of the CIP Arquitectos studio in collaboration with Adoras Atelier and was built by the ACR company using the "Steel framing" method. This industrialised construction system uses galvanised steel profiles, many of which are recycled, guaranteeing efficiency in construction and a reduction in the consumption of raw materials.
The project reflects STAY by Kronos' philosophy of sustainability, meeting stringent ESG criteria. In line with these values, all of its buildings are BREEAM-certified at "Very Good" level and Fitwel certified, ensuring high standards of wellbeing and health for tenants.
STAY by Kronos' focus is on the well-being of tenants and its commitment to the local community and culture. Reflecting this, the building's lobby displays the work "Home" by artist Abraham Lacalle.
In this sense of wellbeing, the development offers its tenants a range of premium services, including a swimming pool, paddle tennis courts, gym, coworking space, children's area, pet spa and mini market. In addition, technology is a constant at STAY, providing tenants with a mobile app to manage various aspects of their home and the support of a Tenant Care to attend to their needs in a personalised way.
The residential offers options of 2 and 3 bedroom homes from 85 sqm to 110 sqm, innovative duplex and ground floor apartments with garden, parking included and the possibility of including storage room and furniture if the tenant requires it.
The Stay platform shared with Iberian Property that demand in Torrejón de Ardoz surpasses the offer by far, and around 80% of their new tenants already lived in the municipality, meaning that what made them change homes was really the quality of services provided by the joint venture between Kronos and Nuveen.