STAY by Kronos, the Build to Rent (BTR) platform of Kronos Real Estate Group and Nuveen Real Estate, has begun work on a 531-home residential development in Madrid, awarded to DRAGADOS and scheduled for completion in March 2025. This project, located in the Cuatro Vientos area, has a total investment of 120 million euros and includes a wide range of studios and 1, 2 and 3-bedroom homes, which consolidates it as one of the main Build to Rent developments in the capital.
Carlos Rodríguez-Bailón, Managing Director of STAY by Kronos said: "We are very excited about our new project in Madrid. The start of construction is a very important milestone for the platform. Not only because of its location and the volume of properties, but also because of the increase in the range of premium services that tenants will have at their disposal. After the commercial success of STAY Tarragona and the opening of STAY Cordoba, we continue to grow and in this case consolidate our presence in Madrid".
Marta Cladera de Codina, Managing Director for Iberia at Nuveen Real Estate, said: "This project, the first in Madrid, is a new step in the roadmap we started three years ago. An ambitious project with more than 500 homes, with an excellent location, added to the set of attributes that define the demanding seal of quality that we apply to all our new build projects, are aspects that differentiate us and that tenants appreciate. This development confirms the strength and solidity of the new build rental segment in Spain.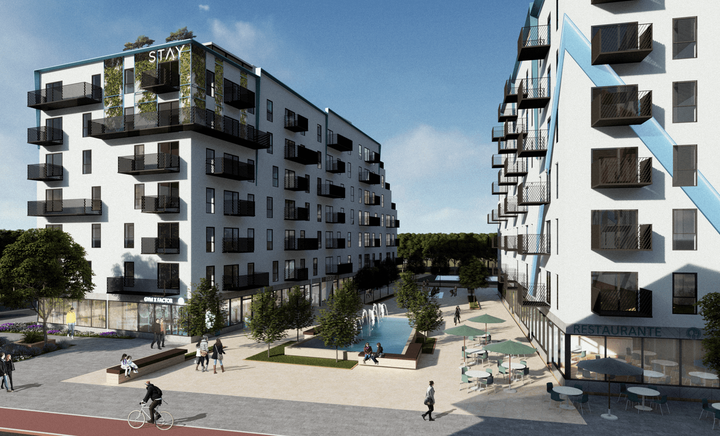 STAY BY KRONOS PROJECT BEING BUILT BY DRAGADOS IN CUATRO VIENTOS (MADRID)
In line with the brand's philosophy, the new project in Madrid increases the range of new build rentals with premium services available to tenants, who will be able to enjoy two swimming pools, a restaurant area, a SPA, coworking areas, paddle tennis courts, running circuit, two Ox Club gyms, Dining Boutiques, Pet Spas, Cinema, Relax Room, children's area and bike room.
The aim is to create a community of more than 1,000 residents who share a healthy lifestyle, social activities and generate synergies that also contribute to consolidating the urban fabric of the neighbourhood.
Thanks to its location, the new STAY by Kronos residential development will be just one minute away from Metro, Cercanías and bus stops, which, together with its proximity to the city centre and direct access to the A-5, will allow its tenants to reach Plaza de España in 15 minutes. In addition, as in all the brand's projects, the commitment to sustainability and quality of life is an outstanding quality of the new residential, which will have Energy Certification A, Breeam 3-star "Very Good" Certificate and the prestigious Fitwell Wellbeing Certificate.