Merlin Properties closed 2022 with total revenues of 460.7 million euros (including gross rents of 452.8 million), EBITDA of 334.7 million and operating profit of 290.5 million (62 cents per share).
Gross asset value stood at 11,317 million euros, absorbing a significant expansion of yields (+44 bps) with a moderate impact on valuations (-1.5% LfL vs 2021) thanks to an extraordinary operating performance based on rental growth and higher occupancy rate. Net asset value amounted to 7,363 million euros (15.67 per share), down 2.7% vs 2021.
After the distribution to shareholders of 561 million (€1.20 per share), the level of debt - Loan To Value - stood at 32.7%, compared to 39.2% in 2021, with a liquidity position of 1,856 million and the average maturity of the debt at 4.9 years. In addition, more than 2 billion of debt has been repaid and 100% of existing bonds have been converted into green bonds. The 743 million bond maturing in April 2023 has been refinanced at a very attractive cost (MS + 126 bps), lengthening the average maturity of the debt to 5.8 years and with no maturity until May 2025.
Offices
In terms of business performance, there was a significant increase in like-for-like rents (+6.0%) thanks to the rise in occupancy (+245 bps vs. 2021), indexation to inflation and the increase in rents in renovations. The occupancy guidance given to the market at the beginning of the year (91.5%) was beaten to 92.5%.
With respect to the Landmark Plan, only the refurbishment of Plaza Ruiz Picasso 11 is pending, which will be delivered by the end of the year and is practically leased to first class tenants at maximum market rents.
Logistics
Merlin Properties has experienced an excellent performance of the logistics portfolio in the year with like-for-like rental growth of 8.6% thanks to occupancy, indexation to inflation and rental growth in renewals. It has been a very interesting year in terms of commercialisation with more than 294,000 sqm signed. Occupancy is virtually full in both MERLIN (97.0%) and ZAL Port (99.7%).
In addition, the development of the Best II and III plans continues, having delivered three projects this year with more than 115,000 square metres leased at 100%. The company has more than 550,000 square metres of land for development, enabling Merlin to support its tenants in their future expansion phases.
Shopping centres and data centres
Occupancy in shopping centres (95.0%) continues to increase (+73 bps in 2021). The portfolio has experienced solid operational performance, with tenant sales above pre-Covid levels (+2.7%), inflows in December already exceeding the 2019 figure (+0.3%) and the effort ratio at historic lows (11.8%).
Regarding Merlin Properties' Mega Plan, relating to its data centre business, the company has announced that work on Bilbao-Arasur, Madrid-Getafe and Barcelona PLZF is progressing well and is expected to be delivered in the second half of the year with 3MW available in each of them.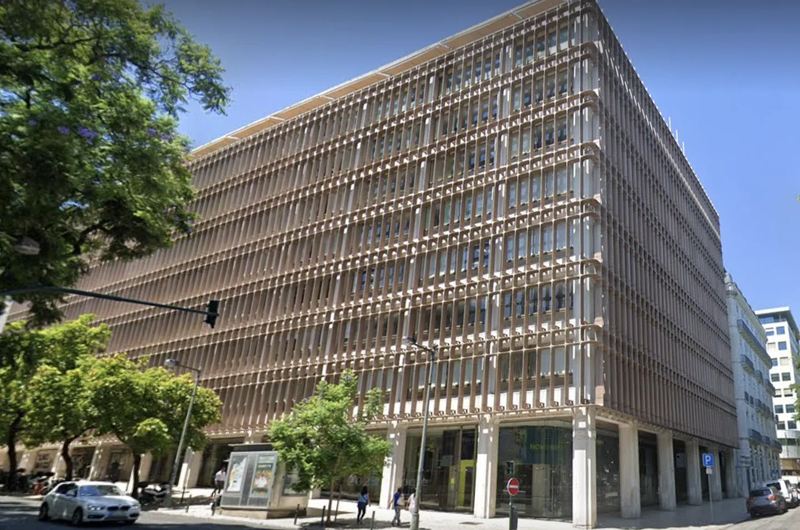 Office building acquired by Merlin Properties in Lisbon
Investment and divestment activity
Of note in terms of investment activity during the year was the acquisition of two prime office buildings for 131.5 million euros. These assets are Liberdade 195, a 16,510 square metre building on Lisbon's most exclusive avenue, and a 3,665 square metre building in AZCA adjacent to the Plaza Ruiz Picasso 11 development.
Of note in terms of divestment activity was the sale of the BBVA portfolio for 1,987 million euros, which generated 83.6 million in gross annual rents and was sold to the tenant at a premium of 17.1% over valuation. In addition, during 2022, the Group sold other assets for a total of 112.6 million at a premium over GAV of 8.7%, including four office buildings (33,783 sqm).