Inbest GPF Socimi has acquired Velázquez 21, one of Madrid's most unique buildings, with a total area of 6,344 sqm, becoming the third asset the vehicle has purchased since its debut in July 2022. Located on one of the capital's most coveted corners (between Calle Velázquez and Calle Jorge Juan, in Madrid's Salamanca neighbourhood), this 1904 building was awarded the "Best Built House" prize by the Madrid City Council in 1907.
The uniqueness of the building will allow Inbest GPF Socimi to develop an iconic project in the capital. On the one hand, the Socimi aims to create the most exclusive residential building in Madrid in this asset, with access from Calle Velázquez.
At the end of 2020 the valuation of the building amounted to almost 100 million euros, namely 99.8 million - 27.1 million for the commercial space and 72.6 million for the residential part.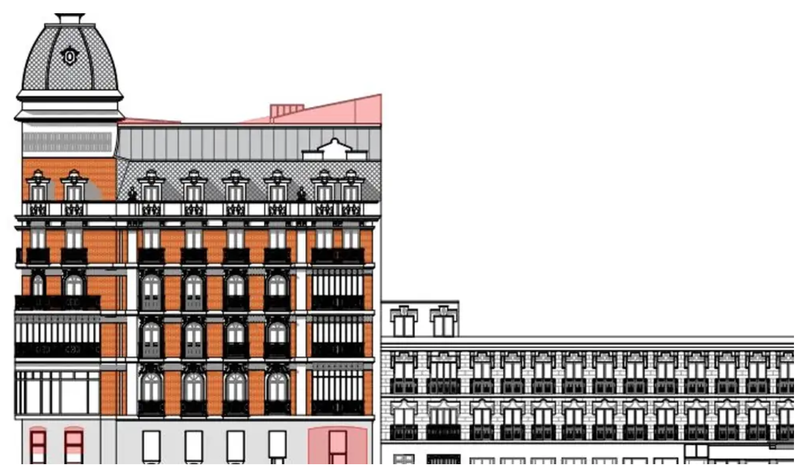 Images of the special plan for Velázquez 21, presented in 2022
The building will have four floors of over 1,000 square metres and the possibility of creating eight luxury residences of over 500 square metres each, which have already attracted the interest of major hotel operators for their potential to create a concept of "branded residences".
Furthermore, the unique structure of the asset and its exceptional location at the intersection will allow Inbest GPF to create the "best retail or restaurant space" with access from Jorge Juan Street, completely independent from the residential area.
To achieve this, Inbest GPF Socimi, which already has the final approval of the Special Plan and the building permit, will carry out a comprehensive refurbishment in which it will recover the original essence of the building, restoring the exterior and interior elements that have been lost over time and recovering its stately character.
Inbest GPF Socimi has achieved an investment of 175 million euros in the first months of its trajectory, thanks to this recent operation. The acquisition has helped the company to advance its strategy and continue to seek investment opportunities in different sub-sectors, such as student residences, sports campuses, health and education centres, offices, residential and hotels, among others.