Real estate development and transformation specialist Glenwell Group has completed the sale of Spain's most sustainable office development - the first carbon neutral development - to Luxembourg-based real estate asset and investment manager REInvest Asset Management. This forward purchase has been completed ahead of Glenwell Group's commencement of construction, which is scheduled for completion by the end of 2024. At that time, the asset will become part of the portfolio of the pan-European investment fund DEREIF SICAV-FIS.
The property is located at Calle Pamplona 66, in Barcelona's 22@ district, one of the most innovative, technological and sustainable districts in Spain. With its development, Glenwell Group begins the creation of a new concept of carbon-neutral offices, under the Inspire brand.
The building is being constructed with a hybrid timber system and will have about 15,000 sqm of floor space, distributed over the ground floor and six upper floors. The basements will provide approximately 300 parking spaces for cars, motorbikes and bicycles. The project has been designed by the Barcelona-based international architectural firm Batlleiroig.
The facade will receive a special treatment using the Yakisugi method, a natural Japanese technique that ensures fireproof protection against humidity, solar radiation and insect attack by burning the outer layer of the wood, which guarantees great durability and requires very little maintenance. In addition to many other sustainability aspects, the building will also be connected to the local district heating and cooling networks.
The sustainability of the building is its great differential value. And this is reflected in its certifications: once completed, the building will have LEED Platinum, WELL Platinum, PAS 2060 Carbon Neutrality, WiredScore Gold and SmartScore Gold certifications.
This is the second office property located in Barcelona's 22@ district that Glenwell Group has developed and sold before completion. The first was Green Business District, a new green campus located in Barcelona, which fuses modernism, green areas and design; and has the highest standards of quality and sustainability, aimed at reducing its footprint and efficiently managing its consumption.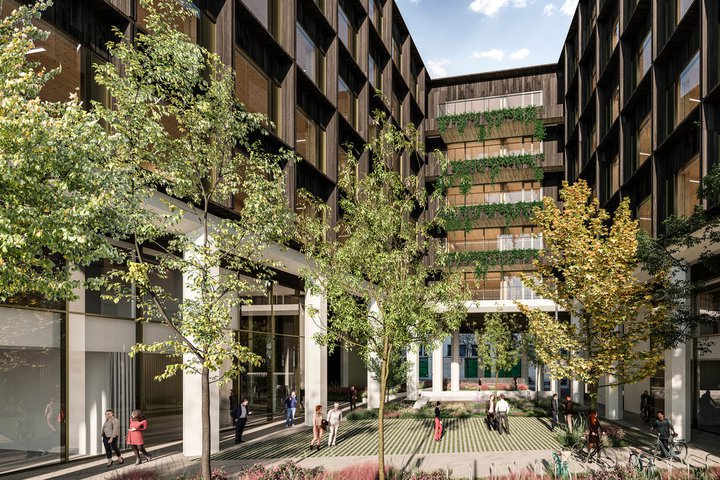 COURTYARD OF THE INSPIRE BUILDING
David Sanchez, CEO of Glenwell Group Iberia, comments: "We are delighted to promote the construction of this innovative property, which initiates the new concept of office buildings with the highest sustainability certifications that we are promoting under the name INSPIRE, a name that this asset itself will also receive. We hope that this building will become a reference in the real estate sector of the future, incorporating new sustainable certifications and providing a strategic district of Barcelona with an important step forward in its innovation objectives. INSPIRE joins other projects in the area that we have developed as Green Business District, reinforcing our presence in Barcelona, Catalonia and Spain as a leading company in urban transformation".
"This project is truly special, not only for its excellent location in Barcelona's innovation district, but also for its uniquely sustainable construction method, with forward-thinking 'smart building' features. The certifications we are currently seeking will serve to reinforce the level of ESG focus in our portfolio. The property therefore fits perfectly into our investment strategy in all aspects," explains Daniel Hohls-Larsson, Head of International Transactions responsible for this project development at REInvest.
Glenwell Group has been advised on the legal aspects of the transaction by GRAELLS MARCH and G3 as Quantity Surveyor (QS) and Project Manager (PM). REInvest has also been advised on the purchase by FABREGAT PERULLES SALES. The technical due diligence was carried out by Drees & Sommer.