The network of flexible office spaces Monday, owned by the Urbania group, accelerates its expansion plan with the opening of its third space in Madrid. The new building, recently inaugurated, is located at number 4 of the central Gran Vía, has a surface area of 4,200 square metres -including a 400 square metre terrace- distributed over 7 floors and a capacity for more than 500 users.
After this opening, the company now has a total portfolio of 10 centres, more than 25,000 square metres and capacity for nearly 3,500 users. Looking ahead to 2023, Monday expects to exceed 12 million euros in turnover.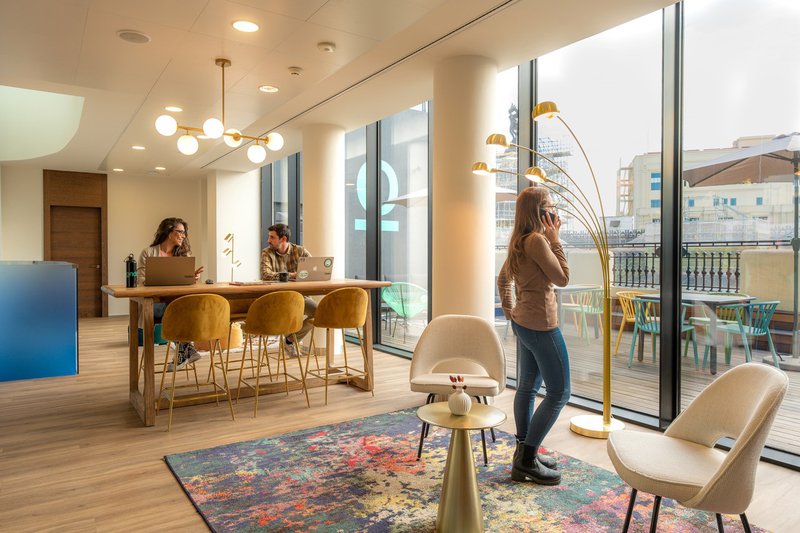 Monday Gran Vía: offices, conference room, gymnasium and terrace
The new space alternates work with a leisure offer. It has perfectly equipped offices and meeting rooms with plenty of natural light, a modern and functional conference room equipped with the latest technology, a gym and a large outdoor terrace of 400 square metres. In addition, users can enjoy a canteen, phone booths, a board games area and a car park. Like all the centres, Monday Gran Via is open 24 hours a day, 365 days a year. As usual, users have free access to any of the Monday network centres.
The property is presented with the network's distinctive decoration, furnishings and interior design. Users can also benefit from the professional services that Monday offers to companies and entrepreneurs, such as accounting, management, consultancy and marketing, as well as an extensive calendar of events and conferences.
The different spaces are marketed under three different accessible modalities: Hot Desk (flexible table in a common area), Fixed Desk (assigned table in a shared area) and private office.
This opening represents the consolidation of Monday in the capital, where we already have three assets that are working at full capacity, and responds to our commitment to maintain a constant growth of between 2 and 4 openings each year in the main Spanish cities. We want to continue providing users with solutions adapted to new trends and working methods', said Xavier Bassons, CEO of Monday.