JJ Matriz Capital moves to the Valencia skyline. The group has acquired 1,400 square metre of office space in the Ikon Tower to move its headquarters to Avenida Cortes Valencianas, with a total investment of 3.5 million euros.
The property acquired by the group, which specialises in the real estate, construction, hydrocarbons and photovoltaic sectors, is distributed over four floors, with a total surface area of 1,400 square metres, resulting in a semi-basement, ground floor, mezzanine 1 and mezzanine 2 of the Ikon Tower.
JJ Matriz Capital changes its headquarters taking advantage of the characteristics of the new skyscraper in Valencia, the tallest residential skyscraper in the capital of the Turia, with more than 110 metres in height. The project is the work of the architect Ricardo Bofill, who died in January last year, and is being promoted and sold by Kronos Homes.
"We expect to be able to start providing services this summer in these new facilities.
"The fitting out works of the property we have acquired have already begun by our group's construction company, IKS, and we have entrusted the development of the architecture, interior design and construction management project to the multidisciplinary studio Arqueha. We expect to be able to start providing services in these new facilities this summer," says Jose Manuel Costa, co-founder of JJ Matriz Capital.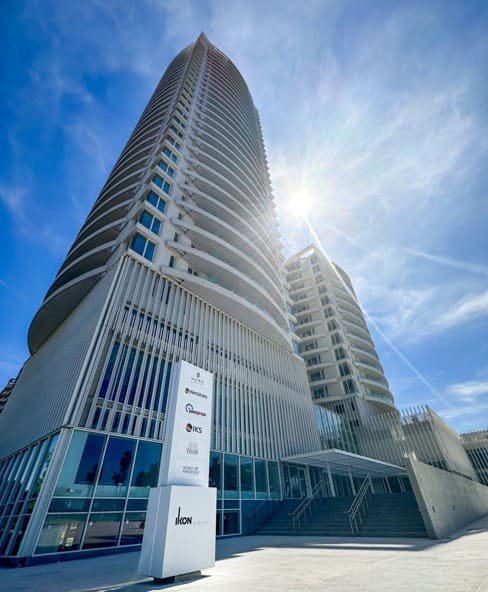 Torre Ikon, Valencia
From its new headquarters, JJ Matriz Capital will serve the needs of the different companies that make up the group, such as Inmoking, IKS, Telus, Solar Express, which will also move their headquarters to the newly acquired property in the Ikon Tower, except Solar Express.
In 2022, the companies belonging to the JJ Matriz Capital group had a worldwide turnover of more than 130 million euros and employed more than 150 people. For this year 2023, the group plans a major achievement by adding a new line of business: its own chain of neighbourhood supermarkets.