During the year's first three quarters, Barcelona registered 1.27 billion euro in office transactions, which represents around 72% of the whole of Spain, according to data from consultant Savills Aguirre Newman.
The availability and quality of the assets on sale in Barcelona are the main characteristics to attract investors who didn't had their expectations met in other locations.
This investment had a yoy increase of 300%, boosted by five «mega-operations» of more than 100 million euro, which concentrated around 55% of all transactions.
All of 2021's big operations took place in Barcelona
It should be noted that 100% of the big operations registered in the 2021 office market, took place in Barcelona. The centre of the city's investment activity continued to be district 22@ which, with around 800 million euro represented a little more than 60% of the whole.
Investors maintain their interest in core and core+ assets, limiting risk as much as possible, but, unlike the Madrid market, there were operations with products under development in district 22@.
Barcelona's office market evolution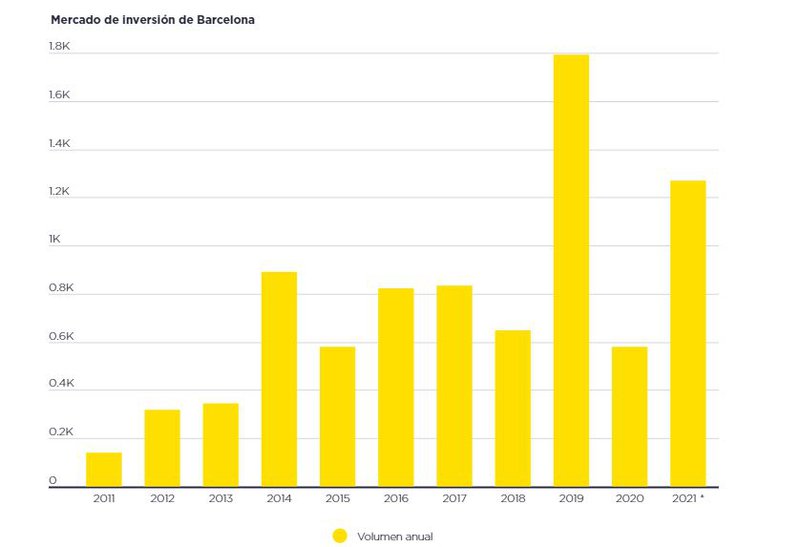 Source: Savills Aguirre Newman
The average operation was slightly higher than 55 million euro. Foreign companies represented 83% of operations and 91% of investment volume.
By origin, the highlight goes to German funds, representing 59% of all transactions, followed by French (16%) and American (13%) capital. Four of the five transactions to surpass 100 million euro were concluded by German companies (funds and insurer) and the fifth by a French fund.
The year's largest operation was registered last August by investment fund KanAm with the purchase of the Pentagon portfolio from insurer Axa for 280 million euro. The office portfolio is constituted by five assets in the city of Barcelona leased to the regional government until 2033.
Domestic transactions (9% of the whole), registered a more modest ticket (29 million euro) with volumes between 10 and 55 million euro.