The employees were the first to arrive, and have been installed in the "new house" since the summer. This Friday, September 30th, was the official inauguration of the building that is already a reference in the city.
Located in Francos Junction, between VCI and Avenida AEP, the Icon Douro building has 7600 sqm, distributed over five floors, in a 30 million euro investment. An important work and that Steven Braekeveldt, CEO of the Ageas Portugal Group, does not foresee it will be the last: "Porto is a dynamic city, with a different attitude, where we want to continue to invest", he guaranteed.
Created from scratch to be the headquarters of the Ageas Portugal Group, in Porto, the Icon Douro building is an impressive architectural project, developed by Luís Pedro Silva, architect of the Cruise Terminal of the Port of Leixões, and the work of Civilria.
A flexible, functional and sustainable building, fully adapted to current working circumstances, in which the interior architecture developed by Broadway Malyan played an important role. "The building mirrors our values - Care, Dare, Share and Deliver - and promotes both creativity and innovation, but also inclusion," explained Steven Braekekeveldt on the same occasion.
"An icon for the city of Porto, quality of life where people work happily", was how Artur Varum, CEO of Civilria, defined the development that integrates not only the Icon Douro building, but also another office building and a building of flats for rent, united by a garden that will be born as the works are completed.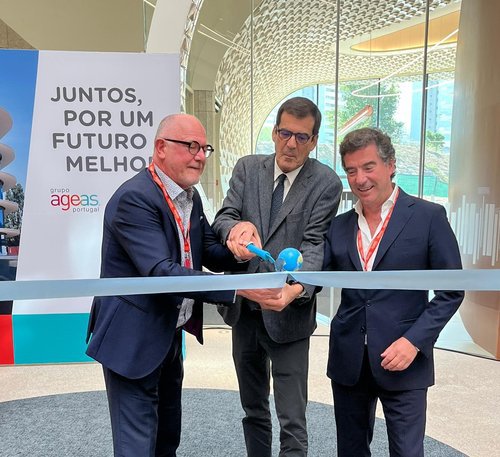 From left to right: Steven Braekeveldt, CEO of Ageas Portugal Group; Rui Moreira, Mayor of Porto; Artur Varum, CEO, Civilria
Remember that the Ageas Portugal Group had already inaugurated, earlier this year, another building in Lisbon, and that together, adding the investment made in Porto, totals about 100 million euros.