Mercadona has kicked off the construction of its new logistics block in Almeirim, in a total investment of 225 million euros for the execution of the project, in which more than 25 Portuguese construction suppliers are currently taking part. The new logistics block should be operational during 2024.
The block will be built on a 440,000 sqm plot of land acquired by the Spanish supermarket chain, with a total construction area of around 120,000 sqm, including a 47,000 sqm cold store, a 50,000 sqm dry store and buildings for general services and offices.
The logistics block will create 500 new jobs
More than 180 people will be employed during the construction phase, many of them from the district of Santarém. The logistics block will create 500 new stable and quality jobs by the end of 2024.
The Almeirim Logistics Block will have around 15,000 solar panels, which corresponds to 6.5 million euros of the total investment. The company will ensure that 25% of the energy needs for the operation of this logistics block will be green energy, a total of 9GWh per year.
To mark the start of construction, the Minister of the Economy and the Sea, António Costa Silva, the Spanish Ambassador in Portugal, Marta Betanzos, and the Mayor of Almeirim, Pedro Ribeiro, were present to see Mercadona's project in Almeirim first hand, accompanied by Inês Santos, Institutional Relations Manager, and Carlos Lopes, Logistics Manager.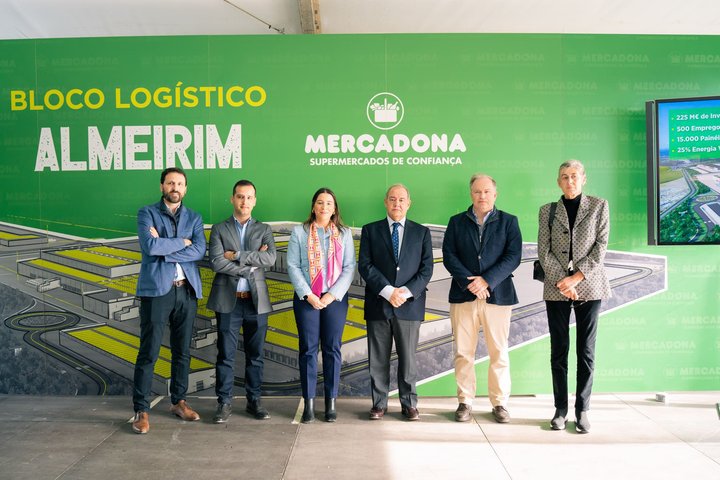 «It is very important to bet on the country's interior»
António Costa Silva points out that "it is very important to bet on the country's interior, and Ribatejo, especially Almeirim, has a very important location in terms of logistics, and logistics is the backbone of the economy's operation. Logistics blocks play a very important role and Mercadona has made an investment of 225 million euros here, has expanded appreciably in our country and will continue to do so".
Carlos Lopes, Logistics Director, emphasises that "today we are marking one of the greatest milestones of the Mercadona project in Portugal, not only because it is the most relevant investment, but also because it reaffirms the company's commitment to the country. In addition to the important economic impact it will have in Almeirim and the whole of Ribatejo, this logistics block will make Mercadona's supply chain more efficient and offer a better service to our network of shops in Portugal".