Iberian Property and Real Asset Media co-organized the IBERIAN INVESTMENT BRIEFING - WHY IBERIA?, a half-day conference focused on Iberia, which brought together the real estate investment community in London, in the Nuveen Head Office, on the 18th of October.
After more than two years of the health crisis, the main focus of the event was to discuss and share the latest research, strategies, and local market insights for Spain and Portugal, while highlighting the new opportunities as we move beyond the pandemic and to the uncertainty of a prolonged war in Europe.
The first panel counted with the participation of Manuel Puerta da Costa, Chairman, APAF, and Miguel Ferré, Chairman, Iberian Property Council, that presented a brief outlook of the Portuguese and Spanish economy, respectively. The physical distance to Moscow, energy balance, European funds, public spending, and international growth projections were some of the topics addressed in the discussion, which main conclusion was that Iberia is well positioned to overcome difficult times that may come, and even to surpass and gain ground when compared to other European countries economic performance.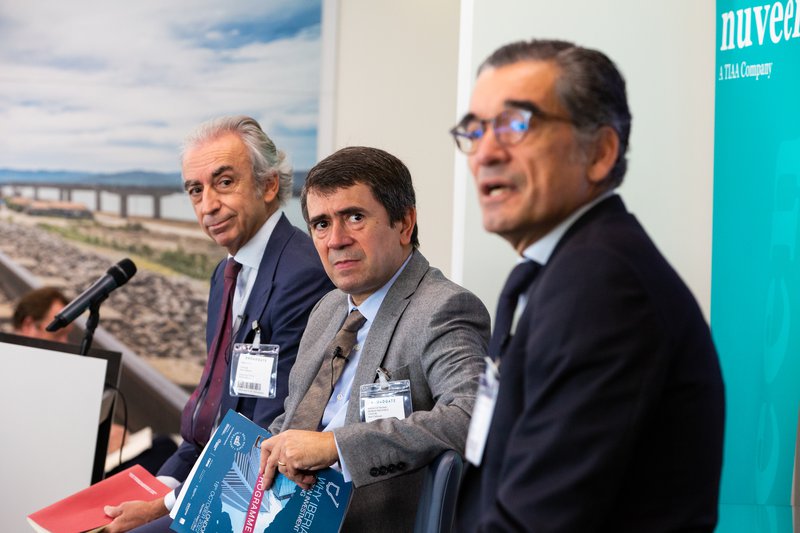 From left to right: Miguel Ferré, António Gil Machado, Manuel Puerta da Costa
Following this Iberian economic outlook, Paloma Relinque, Head of Capital Markets at CBRE Spain, and Nuno Nunes, Senior Director, Head of Capital Markets at CBRE Portugal, presented CBRE research regarding the Iberian real estate market fundamentals, while identifying the two countries main trends and investment opportunities.
From a legal perspective, Pablo Serrano de Haro, Global Partner, Head of Tax at Clifford Chance, introduced some of the advantages concerning taxation for foreign investors to enter Spain, and on the same note João Torroaes Valente and António Pedro Braga, Partners at Morais Leitão, explained some of the main features when it comes to invest in Portugal.
After these three presentations, a round table discussion took place to analyse in depth where are the returns, which are the "hot" segment and cities, and to explore new trends. This panel counted with the participation of Pablo Álvarez-Rendueles, Director Real Estate Sector Coverage, ING Real Estate; Nuno Nunes, Senior Director - Head of Capital Markets, CBRE Portugal; João Torroaes Valente, Partner, Morais Leitão; and Carlos Portocarrero, Partner - Head of Real Estate Spain, Clifford Chance.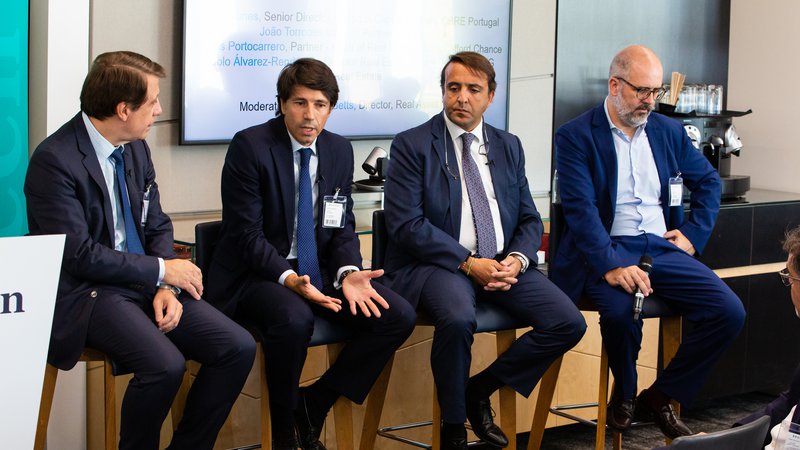 From left to right: Carlos Portocarrero, Pablo Álvarez-Rendueles, João Torroaes Valente, Nuno Nunes
The last moment of this event was stage to study each segment main opportunities and fundamentals. Javier Martin, Senior Portfolio Manager, Nuveen, was responsible for the Retail and Logistics sectors; Pedro Coelho, Vice Chairman of the Board, Square Asset Management, presented Offices as core investment; Jorge Pereda, Iberia Residential Rental Manager, Grupo Lar, introduced the Multifamily sector as a "new must to have"; Javier Mallo, IR, Corporate Development and Strategy Director at Azora, talked about the Hotels & Leisure opportunities. Also worth mentioning is the presentation by Luis Roca de Togores, President of the Valdecarros Community Council who highlighted the Macro-Development project that is going to take place in Madrid, specifically in the Valdecarros community, where more than 50.000 homes will be developed.
The investors present in the room still had the opportunity to pose questions in a final round table discussion with regard to the outlook, pricing, risks and opportunities in both the traditional and alternative sectors, benefitting this way from high-level market insights.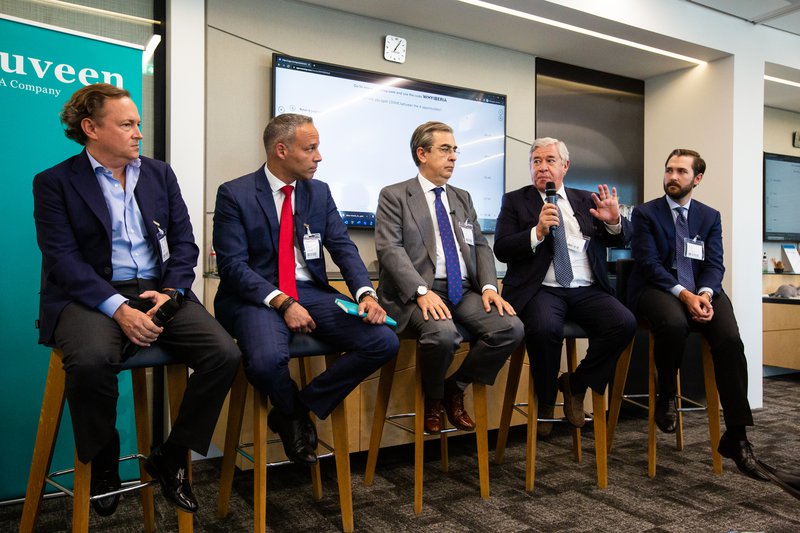 From left to right: Javier Mallo, Javier Martin, Luis Roca de Togores, Pedro Coelho, Jorge Pereda
IBERIAN INVESTMENT BRIEFING - WHY IBERIA? was sponsored by CBRE, Clifford Chance, Morais Leitão, Nuveen Real Estate, Square Asset Management. The event also counted with the following institutional sponsors: ACAI, APAF, APFIPP, APPII, ASPRIMA, EFFAS, EPRA, REFINITIV, RICS, WIRES. Vida Imobiliária, Observatorio Inmobiliario, Confiencial Imobiliário, Idealista, and UrbanOvation acted as Media Partners.
Stay connected with Iberian Property to read an upcoming special story about this conference, with more detailed information and exclusive insights!