The presentation of the most recent study "Emerging Trends in Real Estate Europe 2022 – Road to Recovery", elaborated by PwC and by Urban Land Institute (ULI) happened yesterday in Porto, in the Sheraton Boavista Hotel, and the main topics addressed were the post-pandemic high, medium-term uncertainty, and long-term structural change.
The study reflects an upturn in sentiment, as European economies recover from the gloom and uncertainty of 2020 and property leaders report better-than-expected financial results. Success with work-from-home (WFH) strategies, the industry's increasing digitalisation, and the confirmation of long-term investment theses have all contributed to a broad sense of relief.
But COVID-19's role as a trend accelerator – highlighted in last year's survey – has hardened into fact. Alongside this, its impact on supply chains and labour mobility has translated into very real, rising construction costs just at a time when property professionals are trying to catch up on delayed developments or push repurposing initiatives.
(RE)THINKING Offices & Homes
Maria Empis, Head of Work Dynamics at JLL Portugal, highlighted from the emerging trends the need to (re)think offices and houses, as for in her own words «The world has changed».
Data from the consultant shows that «the future of work is hybrid». The results from a gather of inquires are that 63% of the people wish to have the possibility to choose their workplace and 88% wants to have flexible hours. Furthermore, evidence support that «the same office that satisfied 64% of the workers one year ago, only satisfies 47% of those same workers now».
Boosted by the pandemic, «we stand at a moment where Spaces, Mobility, and Choice form an equation that dictates how people look at their jobs, and an interesting fact is that health & well-being already appear sometimes above salary in terms of importance degree».
The same applies to houses. With a growing number of families and the change of family's profiles (smaller families) it arises the need to (re)size homes, which might result in further difficulties for old plots planning. Adding to this, demand is now higher for homes with exterior areas and adequate working spaces.
Equity appears plentiful but access limited in some sectors
Debt and equity are expected to be plentiful although there are clearly big differences between sectors that performed well during the pandemic and those that suffered significantly.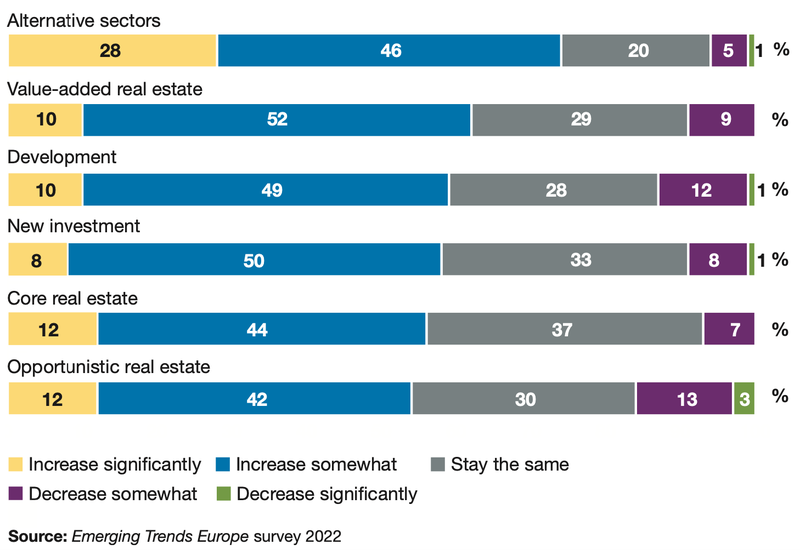 Graphic: Access to equity in 2022
Jorge Figueiredo, Real Estate Lead Partner at PwC Portugal, shared that demand for core assets continues to increase dramatically, forcing prices up in some sectors, but «perhaps this is the time to stop waiting for mature core assets to invest in, and start looking instead towards develop them to find returns».
At the same time, a changing definition of what constitutes secure income continues to influence the rise in demand for alternative sectors as diverse as new energy infrastructure, life sciences, and data centres. Yet investors remain aware that such sectors might offer less income risk but come with more managerial complexity and lower liquidity.
Industry leaders are also generally confident about the availability of finance from lenders, albeit not as optimistic as they are about equity. It is only when it comes to availability of debt for alternative sectors that more respondents believe availability will increase than reckon it will stay the same or decrease.
ESG – an immediate concern or something to look for the future?
Francisco Rocha Antunes, Chairman at ULI Portugal, opened the panel discussion with the importance of environmental, social, and governance (ESG), matters that have crystalized in the wake of the pandemic, gaining renewed urgency amid rising energy costs across Europe.


Graphic: Social issues measured by the industry
While most real estate professionals acknowledge the importance of ESG, a lack of consistency and transparency in benchmarking and the measurement of energy performance continues to affect the industry.
The input of the 844 industry leaders that participated on the 19th edition of this study converges in a general view of serious limitations when it comes to quantifying the impact of ESG. There aren't unified standards across countries or the globe and measuring the payback period of ESG is still something "utopic".
Francisco Sousa Coutinho, Head of Real Estate at CCR Legal, joined the panel and commented that «energy efficiency is the most measured and reported element of ESG, what is comprehensible since real estate is the biggest user of energy of all industries».
Building certification remains the tool most used to measure and report on issues such as energy efficiency and the reduction of carbon emissions, but its usefulness is questioned when it comes to charting the environmental cost of operating assets.
From a legal perspective, Francisco Sousa Coutinho believes that "Green clauses" – clauses that ensure that the asset is built, equipped, and managed in the most sustainable way – is one of the big things that will become a factor of extreme importance for the industry. «Australia was a pioneer in this field, having legislation for green clauses since 2016. In Europe, on the other hand, there is still lack of specific regulation and even lack of awareness in general».
Jorge Figueiredo agreed and shared that «among PwC clients some are already posing questions about ESG, nevertheless as there are no restraints associated to this, clients still don't consider it a major concern».
Maria Empis went further on this topic and stated that «with the implementation of EU Taxonomy any financing operation will obey to criteria like Green clauses, and the sooner we put in practice this measures the lower the investment will be».